As fo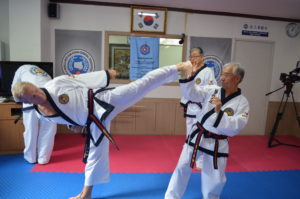 under and Grand Master of American Kwan Tang Soo Do Federation, I would like to welcome you to our web-page. We are a traditional Korean Martial Art with a rich history that goes as far back as man's conflict with other men. We teach and train with our students in the ways of traditional Tang Soo Do. I hope to see and train with you in one of our Do Jangs soon.
Senior Grand Master James A. Saffold 10th Dan
Our Members are what makes American Kwan Tang Soo Do Federation one of the finest organizations to be part of. We believe in hard work, traditional training and a sound foundation is key in our student's development. We always remember that the right to the next step is earned through training and hard work, it's not automatic.
The Grand Masters and Master Instructors of American Kwan take great pride in sharing their expertise with their students.
What you will find are exceptionally well qualified and experienced instructors that leave their ego at home. Not many organizations can make that claim.
We are all about the student!
We take more pride in the success of our students than we do in our personal gains and glory.
If you're looking for quality Martial Arts Instruction and to belong to a top quality organization, you're invited to visit and see for yourself who we are.
Train Hard, Harder, Hardest!